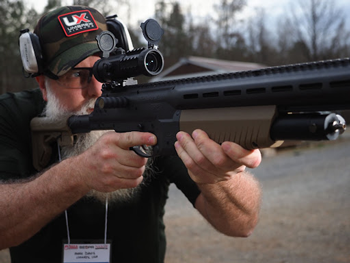 There is an estimated 33% of the population that have astigmatism. Maybe a funny way to start off a blog entry, but if you have this optical inconvenience, you know exactly why prism optics with etched reticles are coveted by shooters. Besides a traditional magnified scope, they are the only electronic sight that doesn't flare out when you take aim.
As this writer does suffer from this common and mild inconvenience, I was rather relieved when I first peeped down the barrel of Axeon's new Prism 3XRD sight. Not only is this a fixed 3X power magnified optic, but it also features an etched reticle that is also illuminated.
All of these characteristics sum up to hit an optical sweet spot, at least for this shooter. Way back in the late 80's the fixed 3X or 4X scope was the go-to scope for deer hunting in my neck of the woods. This magnification range was just enough to get a better eye on the target without making the target too hard to acquire. Not only was the magnification in Goldilocks territory, a fixed scope tended to be much more durable than the variable powered scopes common in that era.
While the Axeon Prism 3XRD is certainly not a traditional optic, the fixed magnification at 3X and the etched reticle found deep inside the glass do lend this optic to be tough and the right answer for shooters looking to have an optic that performs great at close range as well as out to 300 yards. So the illumination feature is just icing on the cake. Yes, one of the best things about etched reticle optics is that there is no need for illumination. However, if you have it, you might as well use it!
The illumination color is user selectable for one of five brightness levels in either green or red. The reticle design is a BDC type that corresponds to the common 5.56/7.62 trajectory. With a perfectly sized center dot encompassed by 1/2 of a circle, acquiring the target is intuitive and fast. So far I've shot this optic on the most popular rifle platform in North America in addition to a few air archery rifles and an air rifle. Yes, an eclectic selection of guns, but oddly enough, just nearly perfect for each one.
Of course, I'm thrilled that there's no longer a bright slash of color bleeding all over the lens as I see with common red dot sights. My usual patch to minimize this impediment is to lower the brightness setting until I can barely see the dot. This means adjusting the brightness every time a cloud passes by, or some other natural event changes the light. It works but can be a bit bothersome at the range. Thankfully, the new Prism 3XRD optic is free of this issue. Heck, most of the time, I don't even turn it on! There's just no need for illumination in daylight conditions.
While "off" is the position I use most of the time, just a few weeks ago at a writer's event in Alabama the day turned rather dark as rain set in and soaked us to the bone at the range. With the rain-laden dark clouds overhead I turned on the illumination and took advantage of this feature. In the poor light, the glow of the reticle on the targets was reassuring and beneficial.
While not officially marketed as an archery optic, it turns out that this prism scope's BDC reticle is right on task for the job of lobbing arrows from Umarex's hard-hitting AirSaber and the compact AirJavelin Pro. You might want to check this optic out if you have one of these arrow shooters or even a crossbow.
The natural home for the Prism 3XRD is atop a modern sporting rifle. No riser is needed for optimal cheek weld and the eye relief is fairly generous given this style of optic's reputation for requiring a tight eye to ocular lens space. While this may be the case for some optics in this configuration, I have found that the eye box on this prism scope is rather generous, being easily usable when as close as 3 inches and out as far as 4 inches. And of course my favorite characteristic, it works without batteries! This is the beauty of having an etched reticle. Yes, you have all the illumination you need, when you need it, but should the battery go flat while you are afield, no need to panic. That etched reticle will keep on keeping on for you!
For folks like me who prefer simple solutions to solve problems, the Prism 3XRD is that simple solution. While not necessarily a simple device on the surface, the simplicity of fixed magnification, robust prism optics, and etched reticle leave little room for a tiny failure to wreck things for you. And if you are still on the fence with electronic sights or just prefer a traditional scope for your rifle, the 1-6x24 LPVO from Axeon is a great alternative for you. WIth a simple mil-dot style reticle and a highly useful 1-6 magnification range, this 30mm tube optic is a perfect match for any rifle used inside of 500 yards.