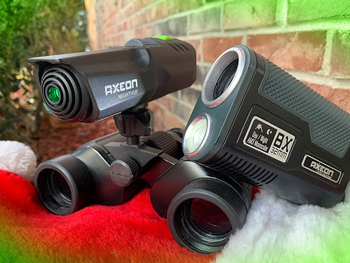 Every year many of us are left wondering what gift to get the man in our lives? Ammo is always a good choice, but it's a bit hard to come by this year. You could go with the old gift card backup plan, but sometimes that seems a bit impersonal. Here's 7 optical gift ideas for your outdoorsman that you can wrap and stick a bow to for under $100.
ONE: The most handy and useful to have around the house or out in the woods is the Axeon AM3. This compact device is actually two in one. It's both a monocular and an adjustable flashlight so it can be useful both during the daytime hours and at night. The AM3 is useful for trips into and out of the hunting stand plus its useful while in the treestand for animal identification before it's in range. And for those with athletic age children it can be much more than an outdoor tool. Dad's and mom's alike can use the AM3 to zoom in on their athlete, cheerleader, or band member from across the field or up in the nosebleeds.
TWO: Binoculars are quite useful during the day but if you're a night hunter without the budget for those high-priced night vision options, this unique and handy device is just the right gift. The NightVue fits many of the common binoculars and is USB rechargeable so you can be sure it's charged and ready whenever you need to see what's lurking in the night or to identify that predator in the field. Each unit comes with a charging cord and plug-in charger block. With the Axeon NightVue you can turn your standard porro and roof prism binoculars into budget-friendly night vision. It turns your daylight only binos into an optic that can be used around the clock.
THREE: Handguns have sold like chocolate bars from a school fundraiser and now property owners are looking to add a light to their self defense investment. The Axeon MPL1 is a budget friendly handgun light that attaches easily to most under muzzle rail systems found on today's modern handguns.
FOUR: Dot sights are extremely popular for modern sporting rifles and AR-style rifles. All but one of the dot sights from Axeon are under $100 and with a 1-year warranty and long battery lives it's hard to go wrong with gifting any one of them to your favorite gun owner.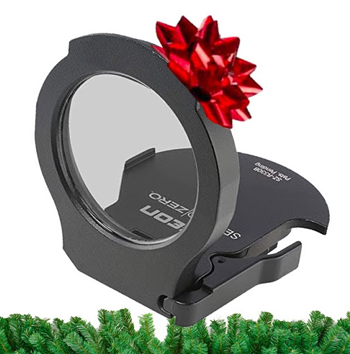 FIVE: Long Range Shooters or those that just want to be long range shooters love this easy to use accessory. The Axeon Second Zero improves your shooter's ability to hit targets at longer ranges by doing the math for them. It's so easy that you just flip the lens in place hold on center and squeeze the trigger. As long as the target is within its range it's going to be a hit. If you shooter has a long rail in front of his optic, get the rail mount. Otherwise, a scope mounting option is available in two sizes. One for those scopes with large bells at the front and the other for those smaller scopes like the 3-9x40s.
SIX: This give was developed to save time, money, and ammunition. Gone are the days of sending half a box of ammo down range just to sight in a rifle. The Absolute Zero uses two lasers and just one of your bullets to get you in the bullseye. This triangulation method not only saves you money, but it can eliminate the errors and inconsistencies involved with shooting multiple rounds down range.
SEVEN: Most crimes happen after dark, but many home defense shotguns aren't equipped with a light. The Axeon ShotLight flashlight for shotguns mounts inline on the three most popular shotguns sold for home self defense. Easily mount the light in place of the shotguns magazine cap. One button operation for on/off and ideal for close range target identification.
These under $100 gifts are great ideas for both men and women who shoot, hunt, or are conscious about home defense. Plus, there's a couple of recreational tech gadgets like the AM3 and NightVue that just about anyone would enjoy receiving as a gift.
Here's one last idea for the man or woman in your life that has everything -- it's a light like no other from our sister brand, Exude. The OD25 flashlight, if you want to call it that, projects a circle of light without dark spot, hot spots or spill. It can be focused into a crisp clean circle so you can not just see what's out there in the distance, but can identify it. Check it out at ExudeLight.com.