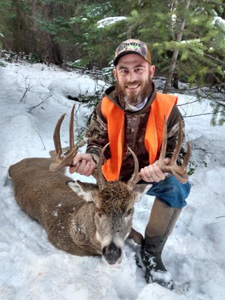 In western Montana, the whitetail buck rut doesn't start until the last week of the season so it has always been a tradition to go out and do some rattling for bucks on Thanksgiving morning.
On my way up the mountain, I passed some grizzly tracks meandering through the fresh snow alongside the road but didn't give them much thought because this is grizzly country. Having already trudged through the snow for three empty stands now I wanted to get one more in before looping back to the truck. Moments within ending the first rattle a brushing sound was heard out to my right. Anticipating a big buck to walk out of the trees any moment I brought up my Axeon EDR Scope to my eye, but what was revealed had huge claws and a massive shoulder hump!
To stand face to face with a grizzly who is tearing up the earth in a fit of rage and snapping her teeth at you is a humbling experience, to say the least. This was not the first encounter I have had with this particular gal, so fortunately for me, I knew she was mean as hell but also she liked to take charge. After a couple of intense minutes, she was done being arrogant and with one last huff, she slipped back into the pine trees.
With her heading north, my route of egress would be a wide southeast loop back to my truck. There was no use hanging around this area at this point. It would be best to move so that I could go try a different drainage on the other side of the mountain after seeing big predators were hungry and on the move. Once moved, I grabbed my shotgun and rifle from the backseat and started off toward the creek bottom.
Thanksgiving Day Buck
Before I can get a third fawn bleat from my Dog Soldier 3F Hand Call something big-bodied catches my eye, approaching 80 yards downwind of me. I knew that I was on borrowed time as this big buck would wind me quickly. I quickly shouldered my .308 and watched him lift his nose up to identify the smell of danger hidden less than a football field away. I intuitively settled the center of the mil-dot reticle behind his shoulder.
Squeeze.
With Thanksgiving dinner in less than an hour, I had to make quick work of field dressing my buck before dragging him to where I parked my truck. Being surrounded by family after a grizzly bear encounter and having a healthy buck loaded up in the truck was definitely a day to be thankful for.
Mike Eslick of Ghost Woods Waterfowl is in the woods nearly every day in his native Montana.