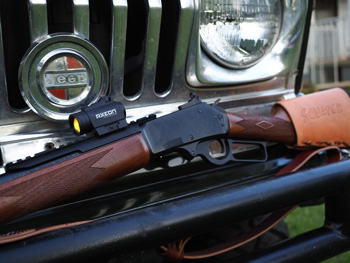 How can you even say that you are a gun extremist and not like lever actions? Yes, autoloaders and bolt actions rule the day with their accuracy, capacity, and modularity, but why does the antiquated lever gun still remain popular 160 odd years after they were first introduced? Maybe I'm biased, but as a lover of all things pew pew related, the lever-action has never lost its appeal to me. The first hunting rifles (and by extension home protection and plinking guns as well) I remember were the Marlin, Winchester, and Browning lever actions my family hunted with. My brother, a guy who's forgotten more about guns than I'll ever know, picked up a Savage Model 99 in .308 Winchester about 30 years ago. The Savage employs a hammerless design that delivers bolt action accuracy due in part to its ability to shoot spitzer-style bullets.
Lever actions are just cool.
You have to like a lever action. The tactile and exaggerated effort needed to eject a spent case and chamber a fresh cartridge is just not of this century. It's a design that screams hand-fitted machining (even if modern technology can mass produce them). The lever action is what the kids these days call steampunk. It's retro, it's vintage-- and it works. Maybe they are a touch on the slow side to reload, but they tend to offer decent capacity, especially when chambered in pistol calibers. On the other end of the spectrum, the .30-30, .35 Remington, and .45-70 don't lack for power while offering fewer rounds of capacity.
Whether you go for a pistol caliber like .357 Magnum or a rifle caliber, lever guns are hot right now. Just a few months ago I made the trip to Tulsa for the Wannenmacher's semi-annual gun show. While trying not to seem too oafish, the prices on lever actions, new and used, set my jaw agape more than once. Well worn .30-30 of any make were being offered for $800, $900, $1,000. Clean or like-new rifles were beyond the 10-bills range. But I also noticed some new trends in lever actions represented on the tables. More and more rifles were wearing Picatinny scope mounts like those from XS. Then there were rifles fitted with MidWest Industries fore-ends, bipods, tactical slings, lasers, and just about any other accessory you can imagine attached.
Lever Gun and a Red Dot Sight?
Has the time come for the proud lever action to modernize and jump into the modern age? Maybe so. While the hot set-up 30-40 years ago was a set of scope rings that allowed the iron sights to still be used and a 3-9X40 scope on top, today's hunter is more likely to have a red dot or LVPO scope mounted as low as possible on a Picatinny rail. Some opt to go with ghost ring sights or even a scout scope mounted forward of the action. Times are changing in the shooting industry and, like the classic car world, new technology is being married to old designs with a great deal of success.
With my Marlin 1895G, this is the direction I have taken. My love affair for lever actions is longstanding, but I can also appreciate the handiness modern modular designs afford. As a result, the XS Ghost Ring and Scout Rail combo really spoke to me. I've never really liked buckhorn or even semi-buckhorn sights, so the opportunity to upgrade the sight set to ghost rings, especially on a short brush gun like the 1895G was just hard to pass up. While the reliable and over-built sights are certainly the star of the show, the less glamorous Picatinny rail really allows the shooter to optimize optics for the rifle.
I hunt densely wooded areas for hogs, coyotes, and whitetail deer. Magnification in these thick woods is ok, so long as it isn't excessive, but one can get away with it entirely within the 100 absolute max distance one can peer through the brush and brambles in my neck of the Ozarks. Because it is light, tough, and able to be mounted very low above the barrel, I chose Axeon's MDSR1 compact red dot sight. Most people put a red dot of this style on modern sporting rifles. Since this model does come with a riser or low mount, there's no reason it can't be fitted to a traditional rifle like my Marlin. I could also imagine that a rimfire squirrel gun or even a 12 gauge turkey shotgun could take advantage of this low-profile mount.
The XS Scout Rail allows for "scout" or forward mounting of a scout optic. Some standard scopes with long eye relief may be used on this rail, but their Lever Rail product is much better suited for standard eye-relief optics. The good news with the Axeon MDSR1 sight is that it has unlimited eye relief. I simply staked out a place on the rail that seemed to offer the best utility and least affected the balance, as much as the scant weight of this sight would affect that, and cinched it down. While the MDSR1 sight does sit low, it does not sit low enough to co-witness the irons through the glass. This isn't a huge deal as the Axeon sight is really a solid unit that isn't likely to leave you afield with a dead battery. Thankfully, there is an auto shut-off feature to prevent the juice from flowing while the rifle is waiting in the safe. One can simply change out the CR2032 battery every couple of years just to have peace of mind about the power source or just keep a spare handy and replace as needed.
With the 2021 deer and hog season just around the corner, I can't wait to get out in the woods with my XS and Axeon equipped Marlin. The 1895G is also wearing a Montana Sling and a custom stock sleeve from local leatherworker Danny O'Bar. I've got a few boxes of Remington's Trapdoor rated cartridges stuffed with 405-grain slugs ready to do the trick on an Ozark whitetail or hog. These mild loads are easy to shoot and offer all the accuracy needed for the ideal 50-75 yard shot. Hopefully this fall I'll have a good yarn to spin about an exciting hunt. Until then, I do intend to do add the Wild West Guns Happy Lever Tune Kit to enhance the reliability of the action and just make the rifle an even better shooter.