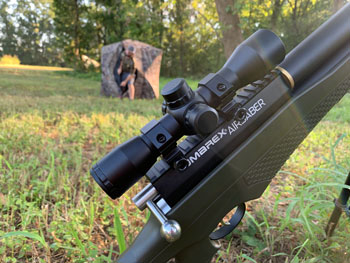 Archery gets its name from the arc an arrow must travel to hit its mark. The English longbow and the archers that shot them would rain arrows down on opposing forces from a considerable distance. This high-arching volley fire from uncommonly stout bows launching uncommonly substantial arrows was understandably effective in creating casualties. These archers had to be able to judge the angle of fire by instinct. Given that there were a few hundred arrows accompanying each other on the launch, pin-point accuracy was not required. Kinda like in horseshoes (and hand grenades), close enough was close enough.
Fast forward to the 21st century and you will still find people using the bow and arrow, not to win wars, but to stock the freezer and hit the X on a target. The basic mechanics are the same, but the bows have been on a constant evolution since then. Many archers are now using crossbows and pneumatic bows for the power, convenience, and novelty they offer. With this in mind, we've created an optic that is optimized for these types of bows.
Made for Air or Crossbows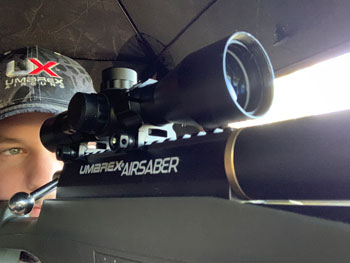 Without further ado we'd like to introduce the Axeon Optics Air Archery scope. Compact, lightweight, and fixed 4X magnification are the building blocks that make the Air Archery scope a perfect mate to an Air Archery device like Umarex USA's brand new AirSaber. The icing on the cake is graduated reticle that will allow you to precisely hit targets out beyond 60 yards.
We've found that setting zero for the dead center crosshair at 20 yards works wonderfully for targets 10 yards away on out to 30 yards. Your mileage may vary when it comes to dialing in your secret sauce broadheads onto the AirSaber's arrow, but rest assured you have all the range you need for a successful hunt!
While designed with the AirSaber in mind, there's no reason you couldn't use this scope on a crossbow as well. Just zero the Air Archery scope for the initial distance you desire and note your hits as you move the bag downrange. So long as there is sufficient energy in the bolt, you should be able to effectively cover a very wide range of distances with your crossbow.
The Air Archery scope is just one more reason we are excited to be moving into 2020. Each year has been better than the year before here at Axeon Optics and we are eager to continue to bring new and innovative products to you! Stay tuned as we continue to grow with products that make your life in the outdoors world better.
Mark Davis, outdoorsman, family man, and outdoors writer, is the social media specialist at Axeon Optics.