What Features Should a Night Hunting Predator Scope Have?
We are continuing to make things happen here at Axeon Optics. We are proud to announce, in conjunction with Dog Soldier Steve Criner, the arrival of the Dog Soldier Predator Scope. As many of you already know, Steve Criner is a professional predator hunter and host of the Dog Soldier television show and the web-based Real Air Gun Hunting program. We've been working very closely with Steve for several years now and have decided it's time to make a proper scope for predator hunters. Naturally, we went to Steve to see what features he'd want in a scope. The overall goal was to create a tough scope that would be ideal for predator hunting in unforgiving conditions. The result of this endeavor is The Dog Soldier Scope, a 4-16X magnification, large 50mm objective lens, 30mm main tube, illuminated mil-dot based reticle, and covered, tool-less ¼ MOA adjust turrets scope that is made to get work done.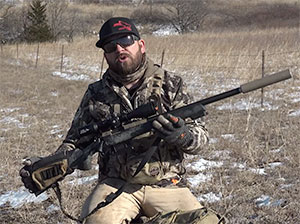 Steve said, "You guys know that when predator hunters are out in the field things happen fast, and I need a scope that can react to changing light and predators on the move. I told Axeon that I needed a big bright objective lens and an illuminated reticle that I could set my drops and see night or day. Axeon delivered and delivered big time."
Steve was adamant that the turrets be covered, low-profile units so that once zero was established there would be no worry about the turret being accidentally turned while transporting the rifle to the blind or pulling it out of a scabbard. Additionally, the low profile caps are much less likely to dig into your back when transporting on a sling or hit the ground in a fall.
Steve's extensive time in the field has given him insight into key characteristics he desires in any product. "When I'm on a hunt, whether its day or night, I have to have complete trust in my gear. I've been using Axeon scopes for a few years now and they've proven to be bright, clear and tough. I wanted them to push those principles and make a scope that will absolutely deliver in all the conditions I hunt in. Things get knocked around, dust flies, and Mother Nature doesn't let up and neither do I. The Dog Soldier scope gets out of my way so I can do my job."
You guys don't need to be told that more stuff flows through a bigger pipe. That's exactly why The Dog Soldier scope has a big 50mm objective lens. That big hunk of glass does a great job of gathering light and passing it through the main tube. There are 25 MOA of adjustment in each direction of the quadrant via the windage and elevation turrets, but the mil-dot based reticle allows you to make shots quickly via the intuitive hash and dot arrangement. Not only that, but you can see the reticle night or day as it is illuminated in either green or red.
Using the Axeon Predator Scope Reticle
This is a second focal plane scope which means that the reticle size doesn't change as you increase or decrease magnification. Range calculations are easy to figure using the 5X and 10X magnifications settings. At 5X the distance between the center of the reticle and the first hash is 1 MIL or 3.6 MOA at 100 yards. At 10X, that same distance is .5 MIL or 1.8 MOA. The distance between the center and the first dot is 2 MILs at 5X and 1 MIL at 10X. The spacing of the hashes and dots is consistent throughout both the elevation and windage bars of the crosshair. We've included a pair of charts below based on the hash-to-dot reading for various distances and magnifications out to 500 yards in MILs and MOA. The nice thing about the mil-dot system is that the reticle is fixed around a standard of measurement rather than a reticle based on an arbitrary application of one cartridge with a certain length barrel. Once you know the dope on whatever caliber you shoot, using a mil-based reticle becomes the obvious solution for shooting extended ranges.
Now Steve hasn't been alone in testing the effectiveness of the Dog Soldier scope. His team of "Regulators" have also been giving this 4-16X50 scope a workout in the field hunting predators from Texas to Oklahoma to Colorado and Wyoming. The Dog Soldier scope is shock rated for 1000Gs and is right at home on a workhorse .308 Winchester or a lightning-fast .22-250 Remington. Steve has his Dog Soldier scope mounted on his custom Cutting Edge Rifles Legend Maker in 6mm Creedmoor. This combination has been filling Steve's social media pages and hunting videos with plenty of content over the past year. And the best news is that you can get your paws on the Dog Soldier scope right now! Our warehouse has just been stocked up and we are ready to start shipping this gem of a scope.
Dog Soldier Scope Dot-To-Hash M.O.A.
| | | | | | |
| --- | --- | --- | --- | --- | --- |
|   | 4X | 5X | 8X | 10X | 16X |
| 100 Yards | 4.5 M.O.A. | 3.6 M.O.A. | 2.25 M.O.A. | 1.8 M.O.A. | 1.125 M.O.A. |
| 200 Yards | 9 M.O.A. | 5.4 M.O.A. | 4.5 M.O.A. | 3.6 M.O.A. | 2.25 M.O.A. |
| 300 Yards | 13.5 M.O.A. | 7.2 M.O.A. | 6.75 M.O.A. | 5.4 M.O.A. | 3.38 M.O.A. |
| 400 Yards | 18 M.O.A. | 10 M.O.A. | 9 M.O.A. | 7.2 M.O.A. | 4.51 M.O.A. |
| 500 Yards | 22.5 M.O.A. | 13.6 M.O.A. | 11.25 M.O.A. | 9 M.O.A. | 5.63 M.O.A. |
Dog Soldier Scope Dot-To-Hash MIL
| | | | | | |
| --- | --- | --- | --- | --- | --- |
|   | 4X | 5X | 8X | 10X | 16X |
| 100 Yards | 1.28 MIL | 1 MIL | .624 MIL | .5 MIL | .312 MIL |
| 200 Yards | 2.56 MIL | 2 MIL | 1.25 MIL | 1 MIL | .624 MIL |
| 300 Yards | 3.85 MIL | 3 MIL | 1.87 MIL | 1.5 MIL | .936 MIL |
| 400 Yards | 5.12 MIL | 4 MIL | 2.5 MIL | 2 MIL | 1.25 MIL |
| 500 Yards | 6.4 MIL | 5 MIL | 4.125 MIL | 2.5 MIL | 1.56 MIL |