Pistol Red Dots for 2022
With pistol optics on the rise, even the most basic entry-level handguns seem to be coming pre-milled to accept one. At the same time, the iron sight crowd is taking notice and considering making the switch by mounting an option to their favorite match or CCW equipment. Since pistol optics will not be for everybody, many are looking for an affordable option to test the waters that won't let them down in the performance department. Whenever this scenario presents itself, Axeon always seems to jump right on it and, for 2022 introduced two exciting micro pistol red dots that won't break the bank.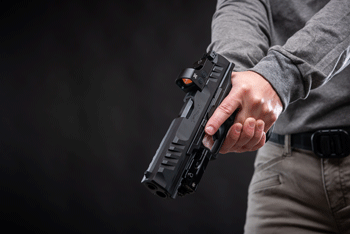 RMR Plate Fitting MDPR1
The first one is the larger MDPR1 which hits the website with a list price of only $129.99. Although inexpensive, it is built with many of the same features as high-dollar units and perhaps even tops some in certain areas. The MDPR1 features a hardened glass lens and a solid aluminum housing for starters. For this price, many might expect to find plastic in these critical areas. Through the use of these rugged materials, this sight can withstand the heaviest recoiling cartridges and handle the rough service associated with concealed carry and competition. These premium materials set the stage for a 3 MOA dot that I found extraordinarily clean and bright, even at its lowest setting. Finding this dot upon presentation is effortless because the 28mm glass is more expansive than most rear sights on the market, thus generating a type of funneling effect as you push out. Torx screws are used for both windage and elevation adjustment, making them easier to grab hold of with the provided wrench when compared to other hardware. As I cranked on them, I noticed distinct, audible clicks that were a true sign of a quality piece of equipment. This same refinement can also be found on the side-mounted buttons that put this dot through its 11 brightness settings. Those interested in topping off their pistol with the MDPR1 can do so by using an RMR-patterned mount or, of course, slapping it right on if their gun is milled with that footprint.
DeltaPoint Pro Fitting MDPR2
The MDPR2 is an excellent choice for shooters who like big dots in small packages and are looking to get the feel of running an optic without making a major investment. This lighter, slimmer package features a streamlined range of eight brightness settings, making for a shorter cycle and an easier return to your favorite. Although it comes in at just $99.99, the same robust materials are used to make both the lens and the unit's body to align with Axeon's stringent quality standards. This standard also gives the user a healthy level of confidence that their dot will be there when they look for it. Standard slotted adjustment screws are used for the controls, leaving you with the most common option on the market and all but guaranteeing that you'll have a means of adjusting them wherever you are. These dials also have a solid clicking feature that provides feedback as you zero and helps the unit retain it throughout the firearm's use. The lightweight nature of the MDPR2 is an exceptional choice for pistols that might not push the slide hard enough to cycle heavier options like the MDPR1 or for those just looking for a slimmer profile option that fits the DeltaPoint Pro Footprint.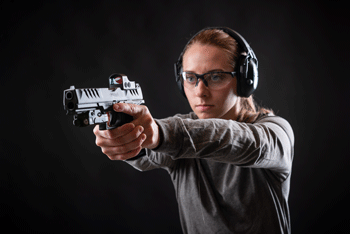 A single 2032 battery powers either of these two units and is installed into a side door. This feature is handy because one doesn't have to remove the sight from the firearm to re-energize it, which typically requires some form of re-zeroing when it's reinstalled. On the other hand, both optics can run up to 30,000 hours on a single battery, so you won't be changing them too often anyway. Lastly, either optic includes a Picatinny rail, so even if you are a long-gunner, these very well can be your entry into the magical world of red dots. For more information, visit axeonoptics.com
Great way to test the waters with an affordable red dot that you can rely on
Frank Melloni gained national attention with his performance on History Channel's TOP SHOT. Frank now owns and operates Renaissance Firearms Instruction and covers firearm industry gear and issues in magazines and blogs.