Just Aim Center: Fling Lead with the Second Zero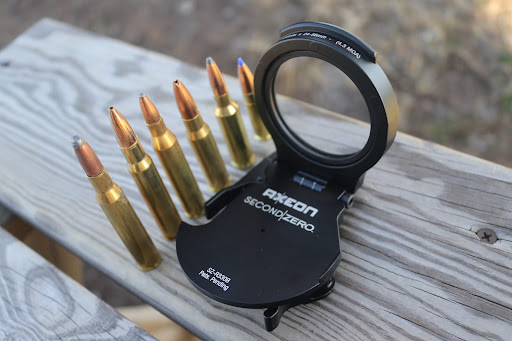 After a spring and summer of planting food plots, trimming branches for shooting lanes and doublechecking stand locations, deer season is just right around the corner. After decades of hunting deep in the Ozarks, I'm expanding my hunting range this year to include some agricultural fields in the Delta. But that presents a unique problem. My deer rifle is sighted in for 100 yards, since that's the longest shot I might take in the thick cover of the Boston Mountains. But sitting on a row crop field in eastern Arkansas means much longer shots will be available.
Do I head to the range to zero my rifle for long distance shots? Do I practice holdovers or work on dialing a scope based on the whitetail's range? No and no. Instead, I will just install a Second Zero on the bell of my existing scope.
The Second Zero is a unique prism that bends the light as it passes through. This causes the image you're looking at through the scope to be higher than it actually is. Based on the ballistics chart for my rifle, my bullet drops just shy of seven inches when shooting 300 yards. With the Second Zero 4.3 MOA, I can confidently place my crosshairs exactly on target instead of trying to holdover or adjust the elevation. If you're really wanting to reach out and touch something at long range, there's an 11.5 MOA version that puts your crosshairs accurately on target at 500-560 yards.
The Second Zero is easy to add to any rifle. Options are available for different size bell diameters and Picatinny rails. Keep your zero at 100 yards, then flip the Second Zero lens into place so you can aim center on long shots. They are also quickly removable if, like me, you know it won't be needed on a particular hunt.
A Second Zero doesn't just work with traditional scopes either. They can be used with red dots and even plain old iron sights. The light-bending effect remains the same. So if you're hunting a variety of environments this fall, add a Second Zero to the mix. It will remove the guesswork when you're stretching out the distance for that wallhanger. Simply flip the Second Zero into position, aim center and get ready for a freezer full of venison.