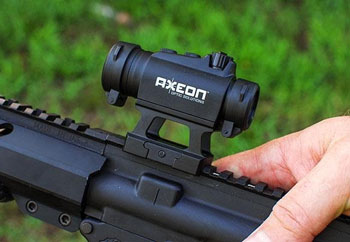 What's wrong with iron sights? Nothing. Not a solitary thing. They don't require batteries, or any sort of voodoo to work. Line the post with the aperture and squeeze the trigger. Hit. Oh, you may have to concentrate a bit more and adjust your hold via Kentucky windage if shooting out beyond 200 yards, but the trusty iron sights can get the job done all day, every day. But not every rifle has a set of sights on it these days. The last rifle I built was a flat-top free-floater with a 16" pencil barrel. I knew I wanted a lightweight carbine and thought this would be the best route to go.
While the rifle is indeed pretty light, I was limited to either flip-up irons or some sort of optic. But since I knew that we had a compact red dot sight in the works and I had a ton of gear to use on the rifle in the meantime, I didn't pick up a set of irons for it. Finally the long awaited compact red dot came in. The Axeon Optics MDSR1 is in the (ware) house!
The Meaning of Compact is this Axeon Dot Sight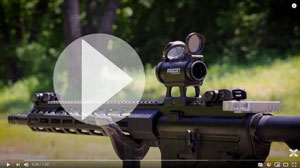 Compact means light, compact means small, and compact means efficient. I like all of those things when it comes to a carbine that I may need to tote around for hours. The MDSR1 has a crisp 2 moa dot size and an extremely usable brightness range. It is powered be a single CR2032 coin style battery which has a nice 30,000 hour life span. Should you forget to turn off the sight, it's not a big deal. The sight has an auto shut-off feature that helps keep that battery alive for as long as it does. A good rule of thumb to go by when you are dealing with an electronic sight is to keep a spare battery on hand or just rotate the battery out every year or so to prevent any range surprises any time. With the MDSR1 you've got a good long time before that surprise can creep up on you.
Cross-Platform Mini Red Dot Sporting Rifle Sight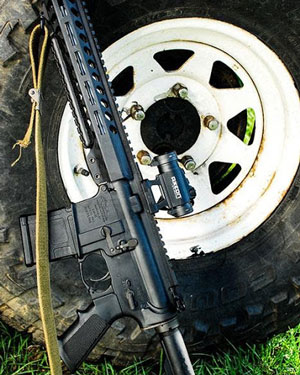 Another nice thing about this sight is that you can mount it on a number of platforms. Yes, electronic sights of this nature are perfect for Modern Sporting Rifles, but what about a brown gun? No problem. Included with the MDSR1 are two mounts, a low profile mount that is perfect for wood stocked autoloaders, or lever, bolt, or pump actions rifles and shotguns. To get proper fit for an MSR, simply install the included co-witness riser base and you are good to go.
The MDRS1 is a seriously useful sight that is priced right and good to go for whatever shooting platform you need a sight for. We think you'll be really happy with it.
Mark Davis, avid outdoorsman, family man, and outdoors writer, is the social media specialist for Axeon Optics.