While looking for a tool the other day I searched through a box that of things that were gathered from my garage when we moved to our new place. In that box was an old Weaver K4-C3 scope that I can't remember obtaining, yet it's been hanging around for years. Unfortunately, the exterior condition of that old steel scope is less than immaculate. It's really downright shameful. Arkansas humidity and poor storage lead to some serious rust issues, but functionally, there is nothing wrong with the scope.
Since my handy mid-length pencil barreled carbine wasn't doing anything important at the moment, I wiped off the dust and some of the rust and snugged the scope down on some Nikon rings for a little trigger time. I had the scope zeroed in quickly with aid of the Absolute Zero. This also served as an occasion to discuss with my son the difference between practical accuracy and pin-point accuracy when it comes to shooting.
Combat vs Pin-Point Accuracy
Practical accuracy, some might refer to this as combat accuracy, is placing a shot effectively on target.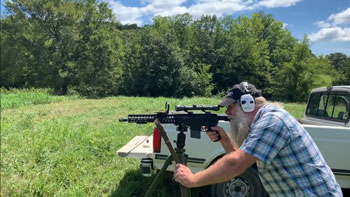 Simple enough. Practical shooting situations are typically less than ideal. You'll likely not have your favorite shooting bench with you in your tree stand or blind. Those things don't pack well. Shooting off-hand, kneeling, or from an improvised rest are the norm for practical accuracy. These types of shots are taken under time constraints, real or imaginary, and don't have to be "split-the-frogs-hair" accurate. Don't misunderstand, the shot needs to be accurate, just not Carlos-Hathcock-shot-through-the-scope accurate.
Pin-point accuracy is exactly what it sounds like, precise shot placement that takes into account the load, distance, shot angle, and a whole bunch of other factors to hit a target in a certain spot. Are most shooters overly concerned with pin-point accuracy? I really don't know. All I do know is that I would never describe myself as a sniper or precision marksman to anyone. But, in a practical sense, I can do OK, and that is what matters most to me.
Maximizing Maximum Point Blank Range
Therefore, we headed out to my home range where I can get pretty close to 300 yards, with the Second Zero and a couple magazines of 55 grain pew pills to see how the old scope would perform in some practical shooting. With the scope zeroed at 100 yards, it had a maximum point blank range of zero to 250 yards. Maximum point blank range and practical accuracy go hand in hand as the former is a good way to discuss the latter. In this case the 5.56 round will be -2.5 inches low at the muzzle, zeroed in at 100 yards, and about 4 inches low at 225 yards. Using the vitals area of a whitetail deer to compare, a shot held in the center of the vitals area will be effective for the shooter, no holdover, dialing in, or Kentucky windage needed out to about 250 yards.
But beyond that distance the round starts to slow down at a faster rate which means that the effect on the round due to gravity becoming more apparent. By the time it reaches 300 yards, this round will have dropped an additional 8 inches from where it was a mere 75 yards earlier. The total drop from the zero at 100 yards is about 12 inches. Without a doubt some correction will need to be made to effectively place a shot on target with this situation being the case. This is where the Second Zero comes in.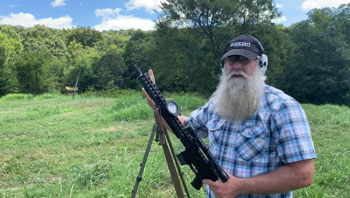 My favorite Second Zero is the 4.3 MOA prism. For practical shooting the 4.3 MOA unit allows the shooter to extend nearly seamlessly their maximum point blank range further. In the case of my rifle, a run-of-the-mill AR15, the 4.3 MOA Second Zero pushes the maximum point blank range from 250 (+ 5 inches) yards to 350 (-3 inches) yards. Other high velocity rounds will experience a similar benefit in terms of yards added to the maximum point blank range. But the utility of the Second Zero isn't just for faster, flat shooting rounds. Old time hunting favorites like the .30-30 Winchester, .45-70 Government, and everyone's favorite plinker, the .22 Long Rifle can also see a boost in practical performance from using the Second Zero.
Using the Second Zero on your favorite lever gun chambered in .30-30 Winchester can extend your maximum point blank range from 175 yards to 250 yards. We have a document that shows expected corrections for several chamberings here. Read through this document to get a better idea on what to expect with either the 4.3 or 11.5 MOA Second Zero on some common chamberings.
If It Ain't Broke, Don't Fix It
While suffering from severe neglect, there isn't anything wrong with this old weaver scope. Chances are you might have a hunting rifle equipped with a similar older scope that still works great. Odds are that whatever you replace it with might just be a downgrade instead of an upgrade. With the Second Zero you can upgrade your capabilities without sacrificing the period correct esthetics of grandpa's old Model 70 or 99. Our Bell mount Second Zero's can fit scopes with 40-44 objective bells or, if you have a section of picantinny rail forward of your optic, the rail mount Second Zero is a one-size-fits-all solution.
Since there isn't any functional problem with this old Weaver, I might send it off to Iron Sight in Tulsa, OK for refinishing and install it on a lever action. What do you think?
Mark Davis, avid outdoorsman, family man, and outdoor writer is the social media specialist for Axeon Optics.