I get it. Not everyone is super enthusiastic about having a light on the end of a gun of any sort. If they aren't for you, then you don't have to worry about them. Just blissfully go on about your business and things will be ok. I promise. For those of you who either haven't formed an opinion on the matter and especially those who are fond of the idea of having a light that is always pointing downrange, hang out with us for a little bit.
Tactical Flashlight Talk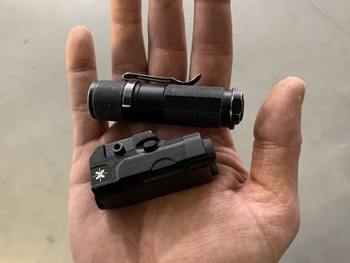 I've got three decent flashlights and an exceptional high performance light for long distance. The larger of the three is really bright, has multiple modes, and a nice smooth flood beam. It's also a pain in the butt to turn on. It's nearly impossible to turn on while wearing gloves, but that is because it's not intended for any sort of tactical use. It's just a really good flashlight that is better suited for around the house or out in the woods when I go camping or hunting.
The other two lights are identical, compact, and one of them usually winds up as an everyday carry item for me, especially in the winter months. These lights have an easy to find and operate end cap switch and have performed well for me for the past 7-8 years.
The fourth light is an Exude Light and fills a specific need. It performs when I need to see something on the other side of the pasture or when I want to check on the well being of our family horse. It also comes in handy when I need to defend the chickens from the predatory nature of a coyote.
The problem is, despite having access to these great flashlights, there are three other people in the house who have been known to walk off with the lights and leave them in some location other than the one I have designated for them. Believe it or not, these cretins usually don't even bother to ask if they can borrow my precious flashlights. The nerve!
And while I live in a relatively low crime area of a relatively low crime state, the risk is never low enough to not be prepared for a worst case scenario at home, on the road, or even on a last minute milk run to the corner store. Frankly speaking, it's trips to our local rural grocery store that have been the source for my most hair raising experiences in my little burg. But, like most folks, I do spend a good deal of time at my home, primarily hours after the sun has gone down while I'm trying to recharge my batteries for the next day's duties.
Pistol Mounted Light: There When You Need It
As you may have already deduced, once the house lights are off, and my lights are out, scrounging around for gear to check out a bump in the night is not exactly an ideal situation. Yes, ninety-nine times out of a hundred one of my EDC lights is right next to my handgun. But should it not be, the proposition of meeting a potentially deadly foe without the option of having light is not preferred. Yes, I used the weasel word option there, lest some keyboard commando, in spite of the warning in the first paragraph, retort with proverbial wisdom and say, "Flashlights point both ways!"
Having a handgun mounted light available offers you the option, not an obligation, to use it. The dark might just be really dark. And, contrary to popular opinion, each bullet does in fact have a price tag attached to it. The rule of knowing your target and what is beyond it does not have a "sunset" clause built into it. Having a light, whether weapon mounted or handheld is much preferred to "shooting blind". There is too much on the line to make a mistake.
That being said, you are the ultimate authority on what accessories you will or won't install on your handgun. If you are interested in such a device, we're proud to introduce to you the MPL1 from Axeon Optics.
Compact, Bright, Affordable, and Universal Fit: Axeon MPL1
This is a micro light made to be a universal fit for handguns that utilize an under barrel Picatinny rail. It's compact, it's bright, it's there should you need it. I've dedicated mine to my home defense gun, a Walther PPQ M1 chambered in 9mm.
This combination fits in the leather pancake holster I use for around the house carry and storage when the gun isn't on my hip. The light output is bright (rated at 300 lumens) and provides a very usable and appropriate beam of light that widens at a perfect-for-handgun-distances rate. This very compact LED is powered by a single AAA battery which has a constant run time of 30 minutes. Keep in mind that a light of this type doesn't need to step up light output. Each mode, on, fast strobe, and slow strobe, is done in full output as it should be.
There is a master power switch that I just leave in the on position. The MPL1 is quickly activated by the ambidextrous button on the back of the light, right in reach of the extended index finger of your strong hand. The first press of the switch activates a steady and bright beam. Two presses of the button activates the fast strobe mode and a third press activates the slow strobe mode. There are several holsters on the market that will work with this light. Just search for a holster that accepts the Surefire XC-1 style light and the MPL1 will fit in there just as well. Now you can have the option of having a compact pistol mounted light without breaking the bank to get it.
Mark Davis, avid outdoorsman, family man, and outdoors writer is the social media specialist for Axeon Optics.