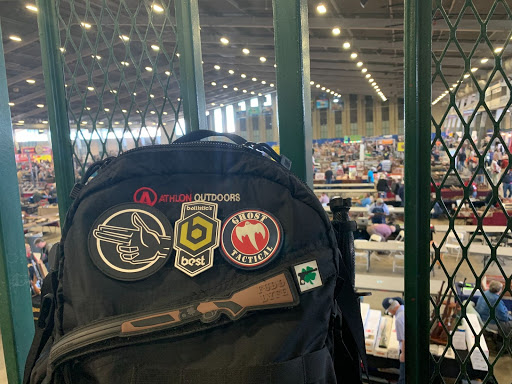 With both the SHOT Show and the original date for the NRA Annual Meetings and Exhibitions canceled for 2021, the itch to get out and do something with industry people was just getting the best of me by April of 2021. I've spent two show seasons cooped up in the office or working from home so I reasoned to myself what could a short trip up the turnpike to T-town hurt? The answer was nothing. To be certain the Wannenmacher's Gun Shows are tremendous events held in a huge bi-level 11-acre indoor facility. Unlike the trade shows that concentrate on the new, the novel, and the flash-in-the-pan, this gun show is like walking into the JM Davis Firearms Museum in Claremore, OK, except you can buy almost anything on display. Oh, there's plenty of new guns, beater guns, and common accessories there, but the real draw, for me at least, are the antique firearms and curiosities that are brought out. The Wannenmacher family traditionally puts on two shows a year, both at the Tulsa Expo Center in Tulsa, OK.
Political Uncertainty Drives the Market
It's been a few years since I've been up that way for the show, so I figured I was due a trip anyway. I must also admit that this time part of the motivation to go was to witness the frenzy that certain recent political rhetoric has aroused. Years before I entered this shooting industry I made the trip on the eve of Barack Obama's election in 2008. If memory serves me correct, it was hard to navigate the isles of the floor with all the dollies and carts shuffling cases of ammo out of the doors.
I wasn't really sure of what to expect on either ammo availability or prices at this stage in the game, but be that as it may, I wanted to get out and see some friends I've made in the firearms industry and also see some of those rare and strange firearms that are only seen in museums and the Wannenmacher's Shows. As it turned out, ammo was plentiful, but it was priced where it wasn't moving too rapidly. This is probably the result of the past 14 months of civil unrest and tumultuous political happenings. The cognoscenti saw the writing on the wall years ago and have behaved as such during the years of plenty. Only the desperate and unprepared were paying the elevated fee to walk out of the expo building with ammo.
Tips For Navigating the World's Largest Gunshow
This year I made the trip on a Sunday, typically a day less crowded than Saturday, to peruse the miles of tables present at the show. Yes, miles. If making a trip to Tulsa for this show, one must bring along heaping quantities of patience as navigating the isles and the people will extract every bit of patience you possess and then some. It is also essential to wear a very comfortable pair of shoes. If you choose fashion over form, your feet will mutiny shortly. Places to sit and rest your tired dogs are few and far between. Navigating the crowd is mostly limited to a creeping shuffle pace, not a walk. Knees, hips, and feet all take a toll from this unnatural turtle-paced crawl.
Another thing that must be kept in mind when attending this show is you shouldn't carry anything with you that you don't absolutely need. Light things get really heavy when hours and miles tick by! However, I always bring a day pack with a couple bottles of water and a few snacks. This also gives me a place to stash any smaller items I might purchase. It is very nice that the event organizers allow packs and outside food in the building. Eating gun show concession is not my favorite thing to do! This is partly mostly because I'm cheap and secondly because the city of Tulsa is really blessed with some really good eats. Anytime I'm in town, It's the Dilly Diner, Hideaway Pizza, or Kilkenny's Irish Pub for our party.
I knew a few folks in the firearms media would also be at the show, so I set out to meet up with those guys, Chris Dover of Clover Tac, Trey Miller of Gh0stTactical, and Kent Nelson of The Gun Snob. All these guys try to make the show as often as possible. They tend to make a weekend of it, however. Since I'm only a few hours away, I don't stay overnight unless another business requires it. If you do decide to come to the show, there are plenty of hotels in relative close proximity to the expo center.
The Biggest and Best Gunshow in the World
This year I kept my eyes out for a good deal on a Marlin 1895G in .45-70 Govt. The term "good deal" is relative these days. Just finding a firearm that you desire is a rarity. Finding ammo for it even rarer, and finding someone willing to part with either for a reasonable price is nigh on impossible. It seems all those stimulus dollars are creating inflation on par with the increased supply and demand inflation. From my observations prices at this show on all Marlin and Winchester lever actions (shooter's-- not wall hangers and antiques) averaged out to about $1,000 per, and that is including beaters rifles "rode hard and put up wet" of all calibers. Just over a year ago, I was walking past clean lever guns that were priced at $700 and beater rifles were in the $350-$450 range. Oh, the difference a year (and a few months) make. For the record, I didn't even glance at a single black rifle though there were thousands of them on the tables. Those tables tended to have the most traffic to negotiate through, so business must not have been that bad, at least for them.
One of the cool things about the Wannenmacher show is it's not uncommon to find a table with nothing but a particular model or era of firearms on it. Collectors of Colt SAAs, historical memorabilia, Smith & Wessons, Rugers, Walthers, etc are known to rent as many tables as needed to show off their wares at this show.
Since photography is frowned upon for obvious reasons, I didn't take too many photographs, but I did manage to sneak in a few.
The picture below is most of the gang mentioned above. We all wound up in the same spot to chat for a spell before everyone split up and headed on their respective ways home.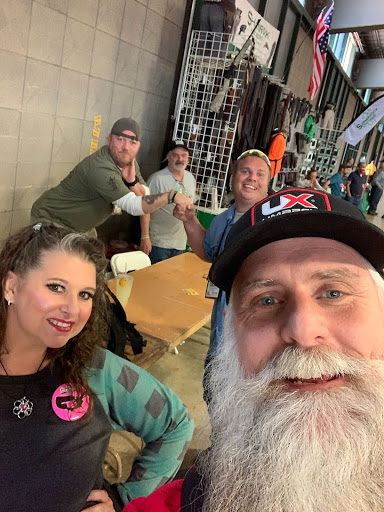 And this one, a K31 Schmidt-Rubin Bayonet that I purchased on behalf of a friend.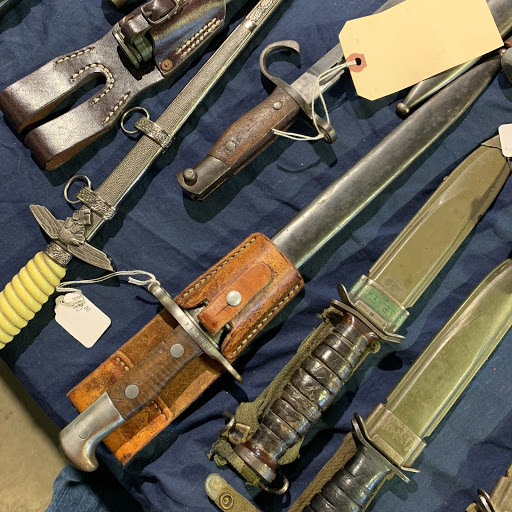 If you are within a day's drive of Tulsa, I would highly encourage you to make the trip to the Wannenmacher's Gun Show. Even if you just go once you will be blown away by the scale of this gun show. Heck, even if you have to travel 2/3rd the way across the country to get there, it's a real treat. I've bumped into people from all over the world there. Additionally, you'll have an opportunity to hit some of Tulsa's fine restaurants or other attractions while you are there.
Mark Davis, avid outdoorsman, family man, and outdoors writer is the social media specialist for Axeon Optics.