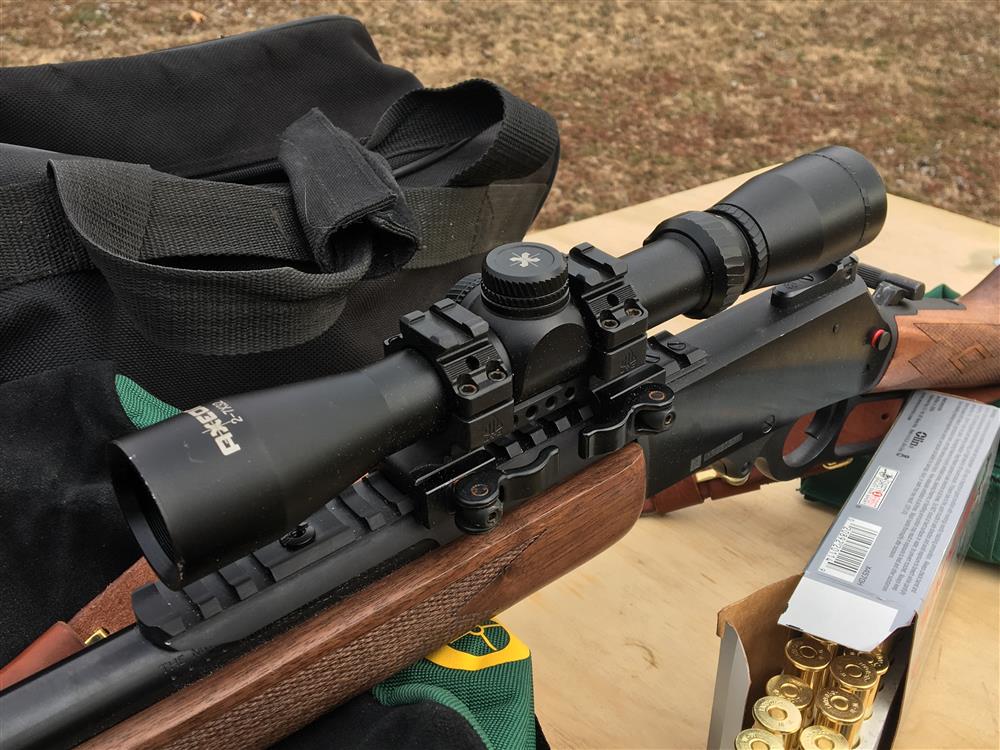 Axeon Optics line of scopes, this was certainly on my mind. Our product development team assured me that they had come up with a tough scope that delivered on features, price, and performance. Can a scope with an MSRP less than a new rifle possibly be any good? Half the price? No way. So when a diminutive Axeon Optics 2-7X32 scope landed on my desk one day, the wheels started turning. Were the product guys right? Does this scope live up to their hype? Alright then. I set out to see if I could accelerate the wear and tear a bit. I wanted to push it harder than the average user would in a year, five years, a decade even.
I went beyond simply tossing the Axeon scope out onto the ground a few times. Several premium optics makers have done this with their glass. I did throw it around, of course. Every time I took it off of my rifle, it was tossed into the woods where I was keeping it. Before I mounted it back onto the rifle there was usually a throw or two for good measure. I bounced it off trees, tossed it high, tossed it far, hauled it around in the bed of my old truck. The Axeon 2-7 just kept ticking. Or rather, shooting good groups, adjusting properly, and remaining fog free.
I finally decided to give the scope a name: Project Rented Mule. What else would be appropriate? I wasn't even letting the scope sleep in my cozy gunsafe! There was four months since I began the test and SHOT Show. Of those four months the Project Rented Mule scope has been outside in the cold for 3/4ths of the time. Most of it was spent at the foot of the trees next to my house. We usually have one pretty decent cold snap here in Northwest Arkansas. This year's cold snap dipped down to the single digits on the Fahrenheit scale. While out one cold evening devising a way to keep our dog's water from freezing, I thought it might be good to freeze the scope in a pan. The next day hauled the frozen pan to work, set up my camera and removed the scope from its icy tomb. It wasn't easy, but I did finally get the scope disinterred, mostly, from the ice. I let it thaw out in the bed for the rest of day.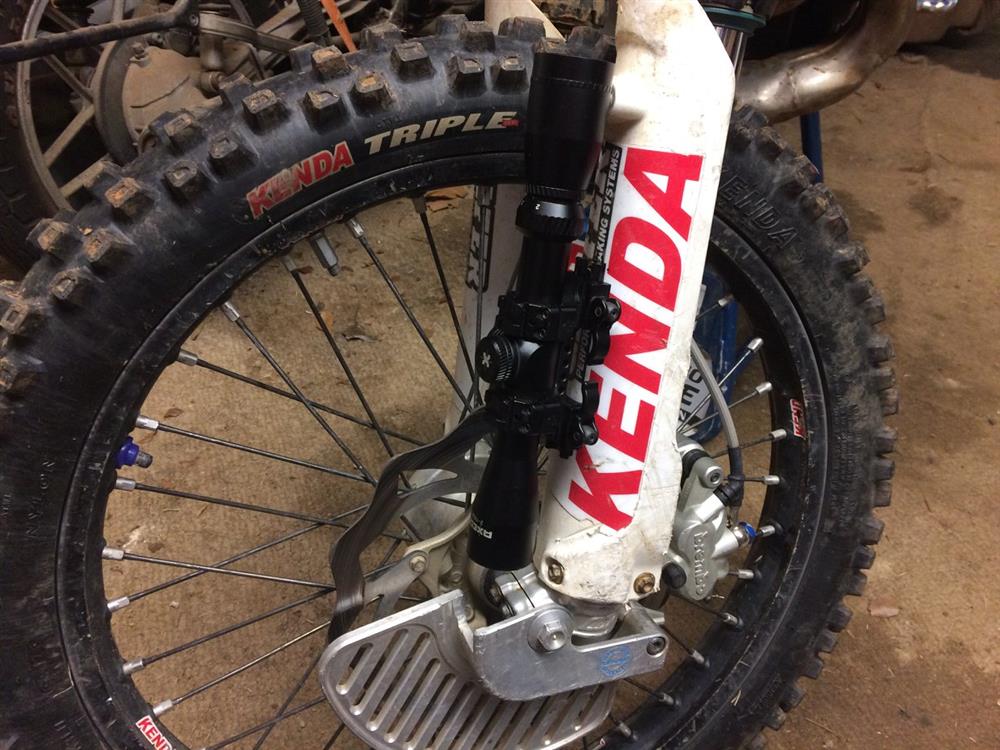 One of my hobbies is dirt bike riding. As a result, I've made some great friends on two wheels (sometimes). One of those friends, JoJo Tool of A-Team Off Road Racing, said he'd like to strap Project Rented Mule to his Enduro bike for a race. As crazy as that sounds, and inspired by all the torture I'd already put the scope through, I said yes. Jojo took the scope to a cold race in Northwest Arkansas. Endure race tracks are long, usually at least five miles long. Jojo and his dad secured the scope to the left side fork of the bike. This means it was "un-sprung"- or part of the suspension rather than cushioned by the suspension. He proceeded to make his way around the track on his first lap with the scope. It did fall off about halfway through that lap. About 100 motorcycles were racing that 22 degree morning. I don't know how many riders hit the Axeon scope, but it was part of the race course until one of his crew members was able to retrieve it.
I've not detailed every escapade and trial I put the scope through here, but the point, I think, has been made. Honestly, after the dirt bike incident, I didn't hold out too much hope for the scope. It was dented, dirty, and starting to show some signs of distress. The zoom ring still turned smoothly, and the glass, while dirty on the outside, was not chipped or fogged, but cosmetically, the Project Rented Mule scope was starting to look like, well, a rented mule. After all of this was done, we took the scope to the range for verification. The first trip was with a pre-charged pneumatic air rifle. These rifles have virtually zero recoil and really make a mediocre marksman like myself really look good. The scope put the pellets in nice, tight groups, but, that wasn't satisfactory for me or for anyone else. We dusted off our AR15 carbine and located a few rounds of Hornady 55 grain hollowpoints to see if the airgun test was valid. As it turned out, I was able to put five holes in a 1/2 inch group for the first target and 5 holes in a 3/8ths inch group for the second target. This was at 25 yards and a GI spec trigger. I've never shot a better group with any rifle before.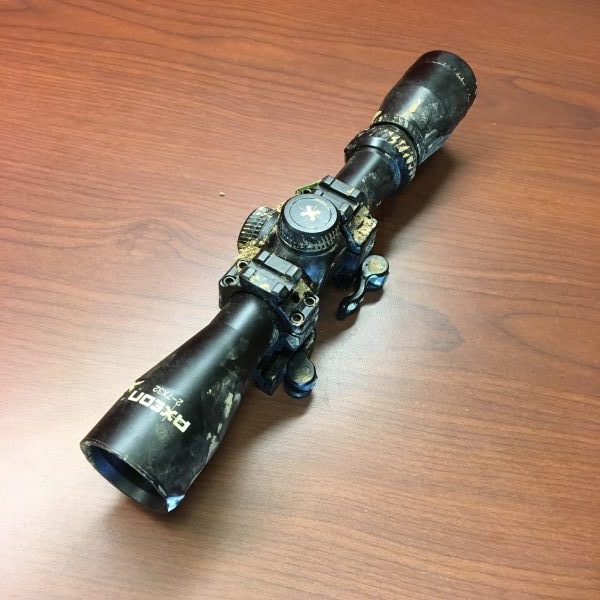 Since then I've shot a few rounds through my .45-70 Marlin 1895G and re-zeroed the scope for that gun. I have full confidence in this scope despite the miles I've put on it. Like my 26 year old truck, it doesn't look pretty, but it shows up for work every day. What this Axeon scope has done for me is increase my confidence in the scope and learn to be a better shooter. I cannot blame the scope for my inconsistencies. Even after all that I've done so far in testing, this scope has held up much better than I initially thought. Yes, this Axeon scope has exceeded my expectations. While I've wrapped up the test, I will continue to shoot the Project Rented Mule Scope on my Marlin.
If you are going to the NRA Annual Meetings in Dallas, TX this year, look for the Project Rented Mule Scope at the Axeon Optics display. We'll be glad to show off this "little scope that could."