While not true for everyone, many of us get a few days off of work around this time of the year. Oh it seems all enticing on the surface, but by the time all of the family obligations and honey-do's are taken care of, did you actually gain a minute of time for yourself? If you are like me, the answer is a resounding "NO". Well, for the most part anyway.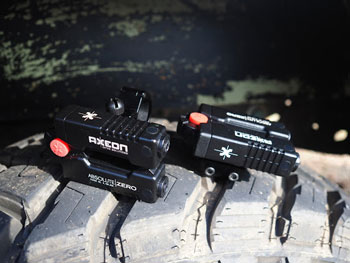 What I have is a handful of rifles that need to be sighted in. There's been some scope swaps but not the corresponding trip to the range to set or confirm zero. I've also have two teenagers with their daily goings on and our ever growing zoo of animals to attend. This just leaves too little time to pack up and head to the range. I had every intention of getting all of my firearms to the range to confirm or set zero for them over the holidays. Well, as alluded to above, that didn't happen.
So here I sit with another weekend quickly approaching and draws on my time just as quickly stacking up against the needed rifle range trip. Not to mention the short days! While I'm ecstatic that we are over the winter solstice hump, the days here in my rather low latitude are still too short to allow for an afterwork trip to the local shooting range. But the good news is that this Saturday, come fiery torment or torrents of high water, I'll be stationed at a presumably lonely range with a handful of ammo to set zero for three separate rifles. With confidence.
One Absolute Zero Trumps All Bore Sighters
I am confident that I'll need no more than a few rounds for gunswill be all that is needed to do the job. How? I'll be using the Axeon Optics Absolute Zero laser sighting device to get these guns squared away.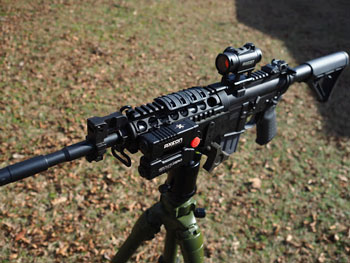 Think of it as a better bore sight. Well, it's not really a bore sight at all. First of all, the Absolute Zero isn't caliber specific. You can use it on just about anything that shoots. Seriously. Secondly, the Absolute Zero allows you to set the windage purt nigh right on and the elevation initially at 25 yards. Thirdly, and most importantly, you don't need a bunch of ammo to complete the process. One shot is all that is needed to put the rifle on target for the initial zero. From there it's only a journey of a few clicks to set the scope for the final zero range that you would prefer to use.
Cross Platform Compatibility
For my `18" barrelled rifle equipped with a 4-16X44 scope, I like to use a 100 yard zero. The .10 mil adjust turrets on this scope can easily be dialed in for ranges out to distances that I am not competent to shoot and returned to zero as needed. I've recently built a carbine length AR that has the Axeon MDSR1 micro red dot sight sitting on top. For this diminutive blaster I like to use a 37 yard zero. This zero range is really good for use inside of 100 yards, but it's also battlefield accurate out to 300 yards, provided I can see the target. The march toward my mid-forties hasn't been kind to my eyes!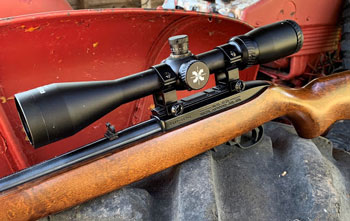 The last rifle on the list is the range plinking and squirrel hunting hero of the last hundred years, the Ruger 10/22 that I just slapped an Axeon 4-16X44 EDR scope on its rail. While the Ruger design is not yet 100 years old, it easily takes the cake on being the go-to rimfire due to the fact that it works so well. In this case a 25 yard zero works great all the way out to 100 yards where the ball falls about 4 inches below the line of sight. With the limited range rimfire no further zeroing is needed once you get the rifle dialed in with the Absolute Zero at the 25 yard line.
It's no secret that ammo is hard to find, and my suspicions are that the draw of demand will not ebb for a long time to come. When you have to make every round count, don't head out to the range without the certainty of being able to get the job done with an absolute minimum number of rounds spent. The Absolute Zero is a great tool to use for this and, as indicated above, works on a wide variety of long guns.
Mark Davis, avid outdoorsman, family man, and outdoors writer is the social media specialist for Axeon Optics.